Discover more from BlkPodNews™
The Podcast Industry Trade Paper For Black Podcast Creatives & Professionals
Over 1,000 subscribers
The BPA Insider: Thanksgiving Vol. 1 | Issue 30
Weekly Industry News and Updates About Black Podcast Creatives & Professionals
🍁
Happy Thanksgiving from BlkPodNews!
🍂
As we gather to celebrate Thanksgiving, we at BlkPodNews want to extend our heartfelt gratitude to each and every one of our readers and subscribers. Your continuous support and engagement are the cornerstones of our community.
This festive season, we're reminded of the importance of togetherness, reflection, and gratitude. Whether you're sharing a meal with family, connecting with friends, or taking a moment for yourself, we hope your holiday is filled with warmth, joy, and plenty of reasons to be thankful.
Here's to a wonderful Thanksgiving, filled with cherished moments and good company. We're incredibly thankful for you and the vibrant community we've built together!
Warm wishes, The BlkPodNews Team
---
Introducing Our Newest Team Members:
&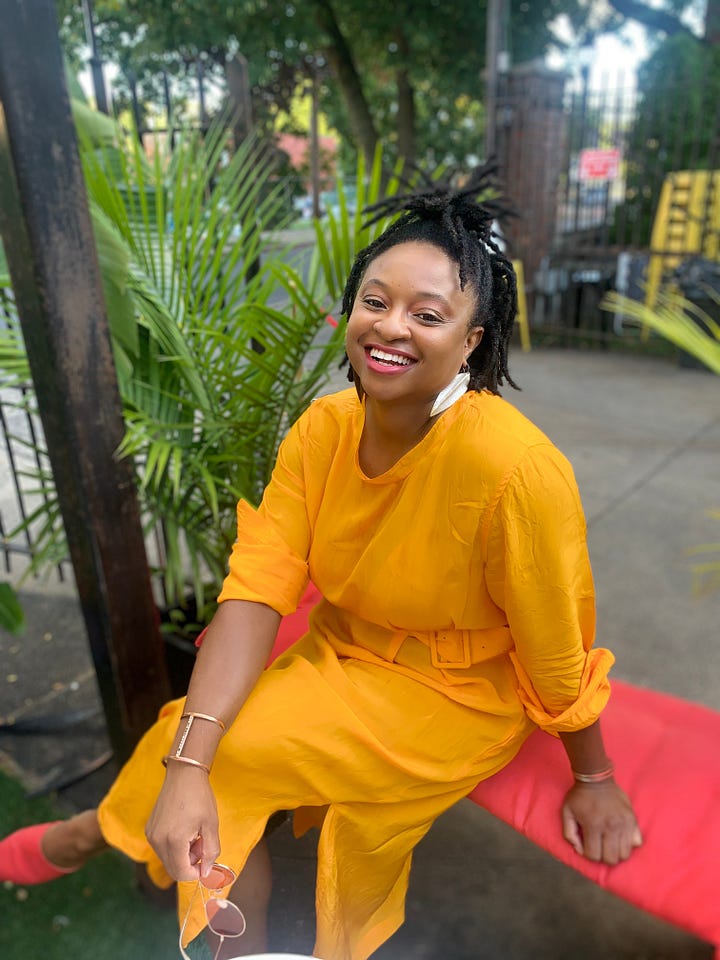 We are thrilled to welcome not one but two new contributors to BlkPodNews.com,
&
.
About Faybeo'n "DJ LiKWUiD" Mickens
Faybeo'n Mickens, globally recognized as DJ LiKWUiD, is a multifaceted hip hop fusion artivist, educator, and marketing maven with over fifteen years of rich experience in the audio content field. Her expertise spans brand partnerships, strategy, and collaboration, making her a notable figure in the industry.
An award-winning graduate from the College of Charleston with an MBA from St. John's University, Mickens has carved a niche as a Cultural Ambassador to the United States and a Voting Member of the Recording Academy. Her alter ego, DJ LiKWUiD, is celebrated for her unique "traphrobeats" style, a harmonious blend of house music, hip hop, and afrobeats, reflecting her Gullah ancestry, Harlem influence, and southern roots.
Mickens' impact extends beyond the turntables. She has graced stages internationally, performing for esteemed organizations like Google NextGen and Sony Music, and sharing platforms with icons like Talib Kweli and Slick Rick. Her commitment to music healing is evident in her DJ exhibition MUVASHIP, a tribute to musical matriarchs and Mother Earth, funded by the Upper Manhattan Empowerment Zone Development Corporation.
As an educator, Mickens leverages hip hop to empower youth and women, drawing from her academic engagements at Columbia University, BAM, and other prestigious institutions. Her songwriting prowess has earned her film credits with HBO Latino Films, MTV, and more, while her role as an Artist in Residence at NewsBeat Podcast and collaborations with groups like EllaMaeFlossie and r.o.t.i. showcase her dynamic range.
In the marketing realm, Mickens has led strategies for top podcast companies, driving significant growth and innovation. Her previous roles include Senior Music Curator at Aaptiv and marketing leadership at New Era Marketing, where she worked with artists like Ne-Yo and Faith Evans.
Her latest project, "Likwuidation II," set for release in fall 2023, marks the pinnacle of her two-decade-long journey as an emcee. Co-founder of BANJEE BOOMBOX, a Hip Hop 50th Anniversary Celebration, and a member of Glaad's Black Queer Creative Summit cohort, Mickens continues to use her platform to amplify marginalized voices, blending music, art, and social justice to reflect the times.
Join us in welcoming Faybeo'n as she brings us her monthly thoughts on podcast marketing in her BPA Learn column: Diary of a Mad [Marketing Savvy] Black Podcaster. We look forward to bringing you some great insights and information that will help you on
Welcome to the family, Faybeo'n!
About Anita Chinwendu "Chi Chi" Opara
Anita Chinwendu Opara is a dedicated podcast scriptwriter, boasting three years of rich experience in the writing industry. Her passion lies in aiding podcasters to streamline their content creation process, ensuring they can focus on their core tasks without hassle.
At the heart of her work is Nkem, a podcast support venture founded by Anita. Nkem is dedicated to simplifying the podcasting journey for creators by offering specialized services in scriptwriting, audio editing, and administrative support. This initiative reflects Anita's commitment to enhancing the podcasting experience for both creators and listeners.
Beyond her professional endeavors, Anita maintains a personal blog where she shares insights and experiences as a young African woman living in Africa. Her writing not only provides a window into her world but also serves as an inspiration to many who resonate with her journey.
Anita's dedication to the podcasting community is unwavering. She continually seeks ways to empower podcasters, enabling them to produce high-quality content with ease and efficiency.
Join us in welcoming Anita as she comes on board to help us with our upcoming podcast reviews section (name TBD) where we offer professional analysis of Black podcasts.
Welcome to the family, Anita!
---
🏷️ Black Friday Comes Early: 2 For 1!
Time is ticking on our most anticipated offer of the year – the Black Friday 2-for-1 Membership Sale! Until November 20th, we're offering an unparalleled opportunity to join both the Black Podcasters Association and Women of Color Podcasters for just $97 - that's a whopping 50% off for the first year!
Why settle for one when you can have the best of both worlds? Our vibrant communities offer everything from expert-led workshops, networking events, and resources tailored to empower Black and Women of Color voices in the podcasting industry.
🚨 But wait, there's more! The first 100 new members will receive a special bonus - 60 days of complimentary access to the 'Grants For Creators' newsletter, a resource-packed guide offering the latest funding opportunities for U.S.-based creators.
Remember, this is more than a membership; it's your gateway to connections, growth, and success in the podcasting world. Act now, because once the clock strikes midnight on November 20th, this deal vanishes!
👉 Click here to join now and be a part of this incredible journey. Let's make your podcasting dreams a reality together!
Time's running out. Let's grab this opportunity while it lasts!
Don't want to join both communities?
You can also take advantage of Black Friday discounts for each individual community as well.
👉🏽 Join The Black Podcasters Association Black Friday Deal » Click Here! «
👉🏽 Join the Women Of Color Podcasters Community Black Friday Deal » Click Here! «
---
👨🏽‍💻 BPA Insider News & Notables
Bringing you recent news & tidbits you need to know from around the industry.
⭐️ Get your 6th Annual Afros & Audio Podcast Festival tickets today! Afros & Audio is running a special Black Friday deal for the 2024 festival in Baltimore, Maryland. You don't want to miss out on this special deal! » Read More Here! «
⭐️ Revolt, a leading Black-owned media company, has expanded its podcast network with a diverse lineup of twelve new shows covering music, culture, relationships, sportsc, mental health, and finance. This expansion solidifies Revolt's position as the largest Black-owned podcast network, offering a range of genres from insightful discussions to engaging interviews. » Read More Here! «
⭐️
recently released her list of Black Friday deals for podcasters. You don't want to miss taking advantage of some of these great products.
» Read More Here! «
⭐️ The Black Podcasters Association has launched its first ever Insights Survey aimed at understanding the unique needs, challenges, and opportunities faced by Black podcasters, particularly in the realm of sponsorships.
Recognizing the importance of sponsorships in amplifying voices and fostering growth, the survey serves as a critical tool for community empowerment. By participating, podcasters contribute valuable data that will help shape strategies for wider audience reach and financial support.
Help us to have your voice heard and contribute to the betterment of the Black podcasting community; participate in the survey today.! » Take The Survey Today! «
⭐️ Spotify is enhancing its podcast and audiobook discovery features by integrating Google Cloud's AI tools, aiming to refine content discovery and personalized recommendations. This initiative involves using Google Cloud's large language models to analyze and augment metadata for Spotify's extensive library of podcasts and audiobooks. » Read More Here! «
⭐️ Air Media just recently announced that nominations for their Annual Board Elections are now open until December 18th, 2023. Nominations are open to all but must a person must come from an Air Media member (self nomination is acceptable). You can learn more about the Air Media Board requirements here! or » Apply for the Air Media Board Nominations here! «
⭐️ Headliner's recent survey, engaging the podcasting community, reveals insightful perspectives on the use of AI in podcasting. The survey, which garnered 248 responses, indicates that nearly 66% of podcasters are utilizing AI for tasks like creation, editing, and promotion, with tools like Headliner, ChatGPT, and Canva being the most popular. This study highlights the growing trend of AI as a collaborative tool in podcasting, aiding in efficiency and creativity, despite some hesitancy about its impact on the creative process. » Read More Here! «
---
Share Your Content With Us!

You can submit your content, press releases, industry/breaking news, links, and podcast relevant information to our engaged audience. » Submit Here! «

---
📚 BPA Insider Education
It's November and there are plenty of opportunities to celebrate, learn, and improve your podcasting game.
🎓 SEO in a Weekend Live, scheduled for January 2024, is an essential virtual workshop for small businesses and budding agencies looking to enhance their online presence. This interactive, two-day event, led by seasoned SEO Strategist Akilah Thompkins-Robinson, offers hands-on training in SEO fundamentals, from keyword research to technical optimization. Ideal for beginners and those with some SEO experience, the workshop promises to equip participants with the skills needed to boost website visibility, drive targeted traffic, and achieve greater online sales and presence. » RSVP & Attend Here! «
🎓 Enhance your podcast's impact with the 'Podcast Show Notes Revamp 5 Days Challenge' by
. This free, easy-to-follow challenge offers daily actionable tips to improve your show notes, boosting discoverability and engagement. Learn key strategies to make your show notes more captivating and effective in driving more downloads for your podcast.
» Join The Challenge Here! «
🎓 Join Sarah McDowell, November 21, 2023 at 11 AM EST., in the upcoming Captivate Growth Labs Live YouTube session, where she will unveil her straightforward keyword strategy to enhance the discoverability of podcast episodes. With over a decade of expertise in digital marketing and SEO, Sarah, the SEO Manager at Captivate and a seasoned podcaster, will guide participants on effectively using keywords to attract more listeners and cover relevant topics. This session promises to be a valuable resource for anyone looking to leverage SEO for podcasting success. » RSVP & Listen Here! «
🎓 Explore the significance of engagement over conversions in podcasting with JAR Audio's insightful article, 'Why Engagement, Not Conversions, Should Be Your Podcast's North Star.' It delves into how podcasts, as unique storytelling mediums, can build long-term relationships with audiences through trust and community. Learn valuable strategies for podcasters to focus on creating a loyal listener base rather than solely pursuing immediate conversions. » Read More Here! «
---
📈 BPA Insider Marketing & Social News
📍 Get it before it's gone! YourPodcastPlanners.com offers the ultimate tool for podcasters seeking to plan a profitable podcast in 2023. Their comprehensive 2023 Podcast Planner simplifies the process of planning, tracking, and monetizing your podcast. Trusted by over 300 podcasters, it includes templates for episode planning, downloads tracking, and sponsorship pitches, making it an essential resource for any podcaster looking to streamline their content and boost their podcast's revenue. » Learn More Here! «
📍 In the latest industry insights, a comprehensive study reveals the heightened effectiveness of host-voiced ads in podcasts. Demonstrating a significant emotional impact and superior engagement, these ads not only resonate more with audiences but also drive notable short-term sales effects. This underscores the unique power of audio personalities in holding attention and influencing listener behavior, marking a shift in advertising strategies towards more personalized, host-driven content » Read More Here! «
📍 Emerging trends in influencer marketing for 2024 highlight the growing effectiveness of creator content over traditional digital ads, as reported by a majority of brands and agencies. Despite challenges in ROI and budgeting, the stability in content production costs and the increasing preference for platforms like Instagram point towards a strategic shift in digital advertising. This evolution emphasizes the importance of influencer marketing as a vital component of modern marketing strategies. » Read More Here! «
📍Discover the often overlooked, yet crucial element of podcasting in
and Devin's latest article for
, '
The Indubitable Importance of Show Notes
.' They delve into how show notes enhance content accessibility, improve SEO, cater to varied learning styles, and provide added value for sponsors, guests, and listeners. This insightful piece not only highlights the benefits but also shares examples of podcasts excelling in this area, urging readers to consider the multifaceted role of show notes in elevating the podcast experience.
»
Read More Here! «
📍 Ayeesha Ash, a multi-talented actress, podcaster, writer, and co-founder of the Black Birds production company, shares her insights on balancing diverse creative pursuits in Pedestrian TV's latest feature. Emphasizing self-care and the importance of saying 'no', Ayeesha provides a candid look into her journey and offers valuable advice for those navigating multiple creative endeavors, underscoring the need for authenticity and representation in the arts. » Read More Here! «
---
Get Featured With BlkPodNews.com

Did you know you could be a feature on our weekly segment, Feature Friday written byAdell Coleman? Well now you do. » Sign Up Here! «
---
---
Affiliate Link
The world's new leading platform for indie artists, podcasters, & creatives. Join Today!
---
🥳 BPA Insider Need To Know Events
🎉 Podfest Meetup Tour continues in Baltimore! Podcasters, mark your calendars for December 6th for the 'PodFest Meetup Tour: BALTIMORE' at Sarcarrogance Media Group. This event, featuring a range of expert speakers, is the perfect opportunity to connect with fellow podcasters and creators. Whether you're looking to start or elevate your podcasting journey, you'll find invaluable insights on re-inventing your brand, content creation, and networking strategies. Join us for a night of learning, networking, and light refreshments, all within a vibrant and supportive community. » RSVP For Event Here! «
🎉 Join Sounds Profitable for 'Sound You Can See: Podcasting's Video Dilemma' on Dec 13, 2023, to explore the evolving landscape where more people are watching rather than just listening to podcasts. This insightful session, backed by research from Sounds Profitable and Signal Hill Insights, delves into consumer behaviors, preferences between video and audio podcasts, and strategic content creation for each medium. Discover how to effectively engage your audience in this dynamic shift towards visual podcasting. » RSVP For Event Here! «
---
👍🏽 Liked this Issue? Please share the same joy your felt with your friends and network.
BlkPodNews™ is a reader-supported publication. To receive new posts and support my work, consider becoming a free or paid subscriber.