Discover more from BlkPodNews™
The Podcast Industry Trade Paper For Black Podcast Creatives & Professionals
Over 1,000 subscribers
The BPA Insider presented by BWDIK Podcast Vol. 1 | Issue 7
Weekly Industry News and Updates About Black Podcast Creatives & Professionals
This Post Is Sponsored By But What Do I Know? Podcast

The "But What Do I Know?" Podcast is a 2X Award Nominated Self-Improvement and Education platform and an ode to the way in which Black, Indigenous, and People of Colour, especially Women of Colour often use the phrase in a way that reduces and diminishes their light. » Click Here! «
---
And The Winner Is…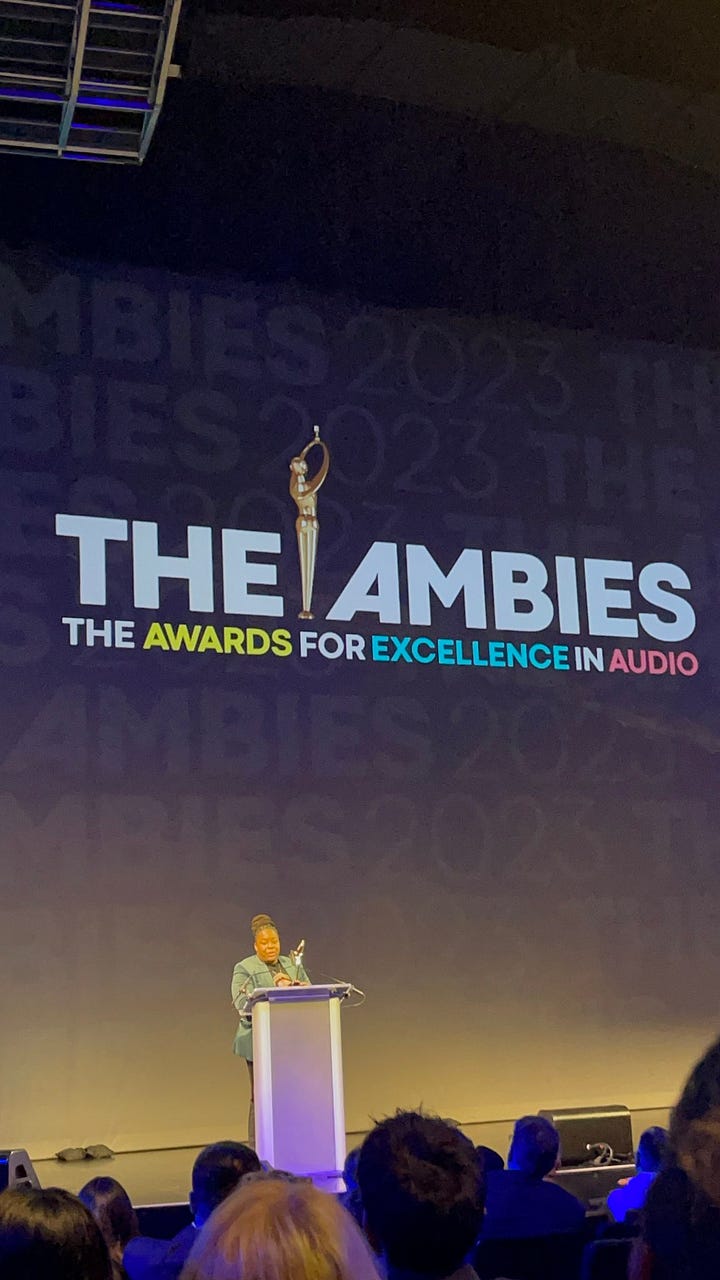 Last week, the podcasting industry came together in Las Vegas for the annual Ambies Awards at Podcast Movement Evolutions. This year was especially noteworthy as several members of the Black Podcasters Association were directly nominated or part of a nominated podcast production.
It was a momentous occasion for our community as we were able to recognize and celebrate the incredible #BlackExcellence of these dedicated, hard-working, and independent podcast ambassadors.
BlkPodNews™ is a reader-supported publication. To receive new posts and support my work, consider becoming a free or paid subscriber.
And though everyone nominated did not win, in our eyes, they are all winners.
We were able to celebrate this year's Best DIY Podcast winner, Anna DeShawn, host of the Queer News podcast.
We couldn't be more happier for Anna DeShawn! When the news dropped, we all went wild for her!
And though everyone nominated did not win, in our eyes, they are all winners to their BPA family!
Jay Ray of
talks about what the nomination meant for him.
Checkout this year's nominees below!
Category: Best DIY Podcast
Category: Best Indie Podcast -
Category: Best Entertainment Podcast
---
Women Podcasting Globally: A Woman's History Month Celebration Panel Discussion
This Women's History Month, join the Women of Color Podcasters Community and the Black Podcasters Association for their four-part Twitter Spaces discussion series!
The Twitter Space conversations will feature a lineup of amazing women who represent the podcast industry on an international scale.
This week, March 15th @ 6 PM EST.,
Danielle Desir Corbett and Corey Gumbs hosts another Twitter space conversation, "Women Podcasting Globally" with our special guests:
You can listen to this conversation here:
🎤🎤

Follow us to get your Twitter Space notifications:

👉🏽 @BlkPodAssoc

🎤🎤
Last week, we had a great conversation about "Uplifting Women In Podcasting ". We had some outstanding special guests to provide insight and share their stories. We were privileged to hear from:
You can listen to the replay here:
You can also listen live on March 15th at 6 PM EST. on Blast Radio, Click Here!
---
Sponsored Link
---
Introducing the BPA Academy's All-Access Pass for 2023
The BPA Academy has recently launched its All Access Pass for Non-BPA members, providing an excellent opportunity for podcasters to enhance their skills and knowledge.
With over 20 curated live workshops and replays scheduled for 2023, our new All Access Plan will allow you to gain access to workshops that are conducted by industry experts, offering valuable insights and practical tips for podcasters of all levels.
Save over $195 and get your BPA All Access Pass today!
To look at, get your pass, or be notified of our upcoming workshops follow us on Eventbrite.
PS: Dont forget to reserver your seat for our next upcoming workshop, "Essential PR for You and Your Podcast" with Tonya McKenzie.
Click Here to get your ticket today!
---
Podfest Global Conference Returns March 27-30th
Discover the power of PODFEST GLOBAL – the 100% virtual extension of PODFEST MULTIMEDIA EXPO, the world's largest and most interconnected community of podcasters.
Experience the same quality content and unmatched camaraderie that PODFEST is renowned for, now in an online setting with even more podcasters and content creators joining the PODFAMILY.
Let PODFEST GLOBAL bring your podcasting ambitions and dreams to life, and join us in building a stronger, more inclusive, and more powerful community of podcasters and content creators.
Thanks to Chris Krimitsos and his support of our community, all members of the Black Podcasters Association & BlkPodNews.com family can get a free standard ticket or upgrade their ticket with a $49 off discount
Simply use the code: BLKPOD for your free or upgraded ticket discount.
---
Affiliate Link
---
Sonic Bloom Awards Submission Deadline Approaches
She Podcasts is excited to announce a new awards program! Our goal is to recognize incredible podcasting projects created and hosted by underrepresented voices across the globe.
The Sonic Bloom Awards are here to highlight inspiring, innovative and high-impact podcasting projects created by cis and trans women, non-binary individuals and anyone who identifies as gender-fabulous. We're going to celebrate independent creators who have shown innovation, creativity and progress.
We hope that this awards program will be an important step forward to encourage all in supporting, educating and nurturing underrepresented people in the podcast space.
Nomination Deadline: March 31st, 2023
To nominate yourself or someone for the Sonic Bloom Awards click the button below.
---
Affiliate Link
The world's new leading platform for indie artists, podcasters, & creatives. Join Today!
---
BPA Insider Notables
⭐️ Black Teen Girls Are The Curators of Culture - Ile-Ife Okantah, Vox.com, explores the influence Black teen girls have on trendsetting and moving the culture forward - » Learn More Here! «
⭐️ The YouTube Podcast Guide - Now that podcasts have been added to YouTube, you can check out their guide. » Learn More Here! «
⭐️ iHeart Announces Its First Podcast Influencer Summit - Taking place April 26th, at their NYC office, iHeart's Influencer Summit will teach marketers "the art of podcast advertising". » Learn More Here! «
⭐️ Does Video Increase the Gender Divide in Podcasting? - Linsday Harris Friel of the Podcast Host, makes a compelling argument about the hurdles video can pose for women in podcasting. » Learn More Here! «
⭐️ Spotify Announces A "Re-Envisioned Spotify For Podcasters" - » Learn More Here! «
---
This Post Is Sponsored By But What Do I Know? Podcast

The "But What Do I Know?" Podcast is a 2X Award Nominated Self-Improvement and Education platform and an ode to the way in which Black, Indigenous, and People of Colour, especially Women of Colour often use the phrase in a way that reduces and diminishes their light. This is a podcast and community where "But What Do I Know Moments" are explored, in hopes that it helps you overcome yours.  » Learn More About BWDIK «
---
📥 Have an article, press release, industry relevant news, etc. you would like to share? Send us an email to: insider@blkpodnews.com
BlkPodNews™ is a reader-supported publication. To receive new posts and support my work, consider becoming a free or paid subscriber.