Discover more from BlkPodNews™
The Podcast Industry Trade Paper For Black Podcast Creatives & Professionals
Over 1,000 subscribers
The BPA Insider presented by Blast Mic Vol. 1 | Issue 6
Weekly Industry News and Updates About Black Podcast Creatives & Professionals
This Post Is Sponsored By Blast Radio

Introducing Blast Mic - the wireless microphone that broadcasts high quality audio directly to the Blast Radio platform. With Blast Mic, you can easily share audio with exceptional sound quality and clarity. Easily download and re-release past broadcasts as podcasts or on other platforms. Get ready to take your audio to the next level with Blast Mic!
---
The Black Podcasters Association & Afros and Audio Live Q & A with Gabriel Soto of Edison Research
This past week, the Black Podcasters Association in partnership with Afros & Audio hosted a special live Q & A session with Gabriel Soto, Senior Director of Research at Edison Research.
Subject of the live Q &A? The Black Podcast Listener Report 2.0.
We wanted to give the Black podcasting community an opportunity to have their questions answered directly from the source. Members of the BPA and podcasting community sent in their questions
To check out the live stream click here!
---
Thank You! BlkPodNews Celebrates Reaching Over 800 Subscribers
As the podcasting world continues to evolve, staying informed about the latest news and events has become more important than ever. This is why many people turn to newsletters that deliver the latest updates straight to their inbox. BlkPodNews.com is one such newsletter, which has just reached a significant milestone of 800+ subscribers.
Our newsletter covers news and events related to Black podcasters, professionals, and content creators. It features interviews with some of the most influential Black voices in the podcasting industry, as well as articles on topics such as podcasting techniques, new releases, equipment reviews, and more.
The newsletter's founder, Corey Gumbs, expressed his gratitude to all of the subscribers who have made this milestone possible. He said, "We are thrilled to have reached 800 subscribers, and we couldn't have done it without the support of our readers. We are dedicated to providing quality content that informs and inspires our community, and we are grateful for the opportunity to do so."
Since its launch, we have been committed to providing a platform for Black podcasters and professionals to share their voices and stories. Our subscribers have been instrumental in spreading this message and supporting its mission.
As our newsletter continues to grow, it is important to remember the significance of this milestone. It represents not only the number of subscribers but also the impact that we have had on the Black podcasting community, as well as the overall podcast industry.
In the world of podcasting, it can be challenging for Black voices to be heard, and we have provided a platform for these voices to be amplified. The newsletter's success is a testament to the importance of representation and the power of community support.
As the founder of BlkPodNews.com, Corey Gumbs encourages everyone to continue supporting the Black podcasting community. "We have a long way to go in terms of achieving true diversity and inclusion in the podcasting industry," he said. "But by supporting Black podcasters, professionals, and content creators, we can make a real difference."
BlkPodNews.com reaching its 800th subscriber milestone is a significant achievement and a testament to the importance of the Black podcasting community. This achievement is a reminder of the power of representation and community support, and we look forward to seeing our work continue to grow and thrive in the future.
Thank you to each and every one of you for your support and contributions to BlkPodNews.com.
---
Affiliate Link



---
Women Of Color Podcasters & The BPA Continue Their Twitter Space Series Celebrating Women In the Podcast Industry
This Women's History Month, join the Women of Color Podcasters Community and the Black Podcasters Association for their four-part Twitter Spaces discussion series!
The Twitter Space conversations will feature a lineup of amazing women who are making a difference in the podcasting industry. The conversations cover a range of topics, including women behind-the-scenes in podcasting, uplifting women in podcasting, women podcasting globally, and wellness.
This week, March 6th @ 6 PM EST.,
and Corey Gumbs hosts another Twitter space conversation,
"Uplifting Women in Podcasting"
with our special guests:
You can listen to this conversation here:
🎤🎤

Follow us to get your Twitter Space notifications:

👉🏽 @BlkPodAssoc

🎤🎤
Last week, we kicked off an incredible series about the incredible women behind-the-scenes of podcasting. We had some outstanding special guests to provide insight and share their stories. We were privileged to hear from:
You can listen to the replay here:
You can also listen live on March 6th at 7PM EST. on Blast Radio, Click Here!
---
Affiliate Link
---
Black Women Stitch's DIY Podcast Recognized for Excellence for Centering Black Women, Girls, and Femmes in Sewing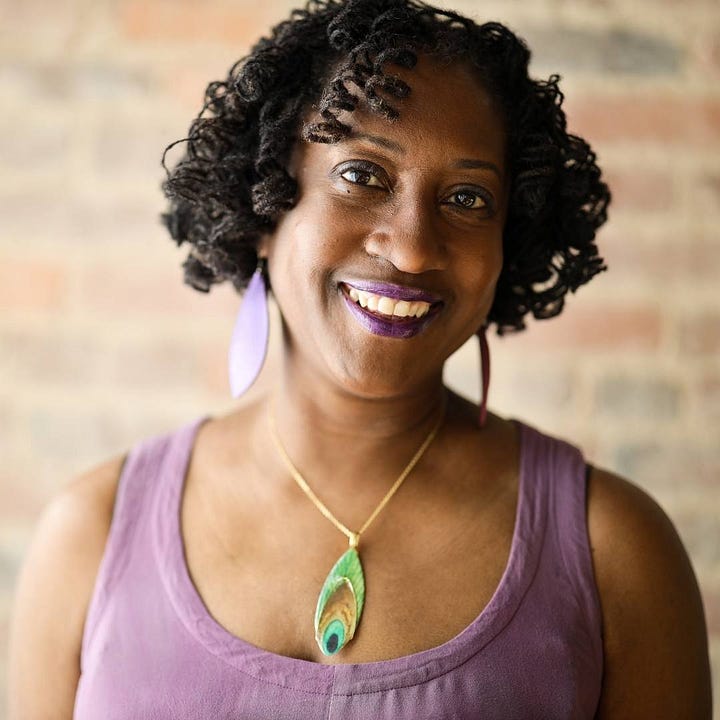 (CHARLOTTESVILLE, VA) — Lisa Woolfork, founder of Black Women Stitch, the sewing group where Black lives matter, is proud to announce that The Podcast Academy has nominated Stitch Please for an AMBIES award as the Best DIY Podcast for 2023.  Launched in 2019, the Stitch Please podcast explores the intersection of sewing, crafting, and Black culture; providing a platform for Black women, girls, and femmes to share their experiences and creativity in sewing.
Stitch Please is currently ranked #5 in Apple's US Crafts category and is the #1 Google search result for "Black sewing podcast." The podcast is fortified by more than 150 episodes, 425k downloads, listeners in every American state and in 83% of the world's countries.
"It makes me really proud to see a DIY podcast that centers around our community being recognized for excellence," Woolfork said. "This nomination affirms the power of Black women's voices. Stitch Please is creating a story and documenting the history of Black creativity, one stitch at a time."
Essence Magazine highlighted the podcast's unique perspective and the way it empowers Black women in the sewing community.  
The Stitch Please podcast, produced by Black Women Stitch, is a unique weekly audio show with a global reach. Guided by Woolfork's cheerful engaging style, the podcast considers the joys of Black creativity including sewing tips, history, and interviews with a wide variety of Black sewists, quilters, designers, and fiber artists. 
Carmen Green, founder of the Black Sewing Network: "Black Women Stitch is an essential and impactful force within the sewing community. The platform is necessary for the empowerment, well being and perpetuity of black women/femme sewists. The Black Sewing Network will forever be indebted to their contributions and trailblazing efforts that have created awareness and opportunities for us all!" 
Nikki Griffin, founder of Sewing My Style and Atlanta Sewing Style: "There is no one else in the sewing community that centers and celebrates Blackness in the sewing and craft space like Black Women Stitch. The Stitch Please podcast exposes so much more than what we see on social media in the sewing/craft community - valuable content that is unique and entertaining." 
Talib Jasir, founder of Afros and Audio: "Afros & Audio is excited for the nomination of the Stitch Please podcast. Too often special interest podcasts get overlooked and Black-centered special interests even more. Lisa has grown tremendously since starting her podcast and fans of the show have grown with her. The success of the show speaks for itself and I'm happy that Lisa is receiving much deserved recognition. "
Some past guests of Stitch Please include sustainability activist Aja Barber, womanist theologian Rev. Dr. Renita Weems, Broadway star Marcy Harriell, TV actor Jaskia Nicole, and US Poet Laureate Rita Dove.
Stitch Please recently made an appearance at the Modern Quilt Guild's QuiltCon in Atlanta, GA, from February 23-26. This 10,000 person event is the largest modern quilt exhibition in the world. The podcast recorded several live shows with the Black Women Stitch community as studio audience. Event keynote speaker Chawne Kimber, fabric designers Rashida Coleman Hale and Janine Lecour, quilters Sarah Bond and Uzoma Samuel were among the featured guests.
New episodes of Stitch Please are available every Wednesday on Apple, Spotify, Stitcher, Alexa, and anywhere else podcasts are played. 
Hosted by Larry Wilmore, The Ambies® will be streamed LIVE from 9-10:30 p.m. EST on March 7 on Amazon Music channel on Twitch from the International Theater in Las Vegas.
About Black Women Stitch
Black Women Stitch, founded by Lisa Woolfork, is the sewing community where Black Lives Matter. At Black Women Stitch, we center Black women, girls, and femmes in sewing while promoting the principles of Black liberation, radical self-love, and social justice. This initiative was derived from Lisa's experience as a Black Lives Matter-Charlottesville organizer. After surviving a white supremacist terror attack in the summer of 2017, she was further harmed by the white supremacy in her sewing community. The Black Women Stitch movement began in July 2018. 
About Stitch Please
Stitch Please podcast centers Black women, girls, and femmes in sewing. The weekly audio show discusses the wide world of sewing, quilting, and needlecraft from a distinctly Black lens. 
For media inquiries, please contact:
Kristina Gifford
Media Manager
---
Sonic Bloom Awards Submission Deadline Approaches
She Podcasts is excited to announce a new awards program! Our goal is to recognize incredible podcasting projects created and hosted by underrepresented voices across the globe.
The Sonic Bloom Awards are here to highlight inspiring, innovative and high-impact podcasting projects created by cis and trans women, non-binary individuals and anyone who identifies as gender-fabulous. We're going to celebrate independent creators who have shown innovation, creativity and progress.
We hope that this awards program will be an important step forward to encourage all in supporting, educating and nurturing underrepresented people in the podcast space.
Nomination Deadline: March 31st, 2023
To nominate yourself or someone for the Sonic Bloom Awards click the button below.
---
Affiliate Link
The world's new leading platform for indie artists, podcasters, & creatives. Join Today!
---
BPA Insider Notables
⭐️ YouTube Music Is Bring You Podcasts - YouTube recently announced that it plans to add audio-only podcasts to YouTube Music. » Learn More Here! «
⭐️ "Sistas Who Kill: A True Crime Podcast": How These Creators Found Their Audience - Apple Podcasts interview MaRah and Taz, creators of "Sistas Who Kill: A True Crime Podcast" and learn how they built their podcast to what it is today. » Learn More Here! «
⭐️ Black Girl Ventures Emerging Leaders Fellowship Program - Application submissions for the Black Girl Ventures Emerging Leaders Fellowship program closes March 27, 2023. » Learn More Here! «
⭐️ The Supreme Court & Social Media Companies in Showdown - The Supreme Court recently heard a case challenging whether or now social media companies can be sued for civil damages over material that appears on their platform. » Learn More Here! «
⭐️ Parcast, the podcast studio at Spotify Technology SA, Demand To Know More About Diversity Fund - After nearly a year of an unfulfilled promise, Union employees at Parcast sent a letter to management questioning Spotify's commitment to its DEIA committee. » Learn More Here! «
⭐️ Listen Time: Is This A Better Metric for Success than Downloads? - Katie Paterson, writer for ThePodcastHost.com, helps podcasters to understand how "Listen Time" may be a better metric for success. » Learn More Here! «
⭐️ Spreaker Now Offers a Free Tier To It's Platform - Spreaker recently announced that they are now offering a free tier that allows podcasters to tap into their monetization tools. » Learn More Here! «
⭐️ Edison Research Releases The Infinite Dial 2023 - The new report highlights how monthly & weekly podcast listening are "bouncing back". » Learn More Here! «
---
This Post Is Sponsored By Blast Radio

Introducing Blast Mic - the wireless microphone that broadcasts high quality audio directly to the Blast Radio platform. With Blast Mic, you can easily share audio with exceptional sound quality and clarity. Easily download and re-release past broadcasts as podcasts or on other platforms. Get ready to take your audio to the next level with Blast Mic!
---
📥 Have an article, press release, industry relevant news, etc. you would like to share? Send us an email to: insider@blkpodnews.com
BlkPodNews™ is a reader-supported publication. To receive new posts and support my work, consider becoming a free or paid subscriber.