Discover more from BlkPodNews™
The Podcast Industry Trade Paper For Black Podcast Creatives & Professionals
Over 1,000 subscribers
The Black Podcasters Association Spotlight Show Presents Robin Kinnie
Our purpose is to unite black podcast creatives and professionals committed to redefining the podcast landscape and establish a foundation that fully supports our creative voices, respects our brands, and aligns with our core values, as we share engaging content with the world.
The Black Podcasters Association Spotlight Ep. 9 Presents - Robin Kinnie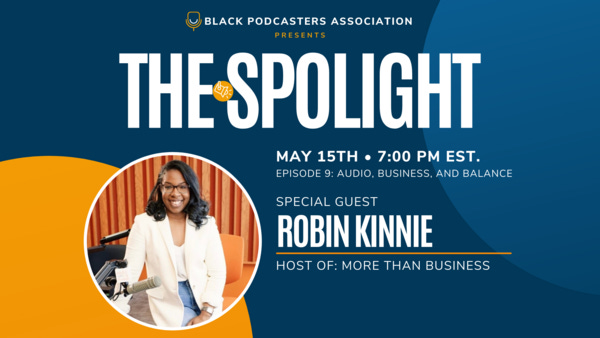 The Black Podcasters Association Spotlight Series Presents Robin Kinnie
Welcome to Season 2 of the #TheSpotlight series and in this latest episode, we interview the host of the More Than Business podcast, Robin Kinnie.
Watch the show live on May 15th, 2022, at 7 pm Eastern on our official Youtube Channel.
And don't forget to subscribe to our channel: CLICK HERE TO WATCH LIVE
Learn More About Robin Kinnie
Robin Kinnie is the President of Audio Engineers of Detroit and Motor City Woman Studios and loves all things Detroit and all things Audio.
When she is not in a recording studio, you will find her testing new recipes for her picky-eater kids or listening to audiobooks by inspirational people.
Learn More About More Than Business
Get ready for the More Than Business podcast hosted by Robin Kinnie. Learn, laugh, and listen to the unconventional strategies she used to launch two businesses while maintaining a balanced life. 
Follow & Subscribe -  The More Than Business Podcast
The Black Podcasters Association Powered By Afros & Audio
About The Black Podcasters Association powered by #AfrosandAudio
To learn more about the #BlackPodcastersAssociation and to become a member of our online community: https://bit.ly/BlackPodcastersAssociation
Follow  & Subscribe To The Black Podcasters Association