Discover more from BlkPodNews™
The Podcast Industry Trade Paper For Black Podcast Creatives & Professionals
Over 1,000 subscribers
The Black Podcasters Association Narrowcast - Postponements & Season Finales
Our purpose is to unite black podcast creatives and professionals committed to redefining the podcast landscape and establish a foundation that fully supports our creative voices respects our brands, and aligns with our core values, as we share engaging content with the world.
Postponed - Liability in Podcasting: Record Responsibly Part 2. Presented by the Reporters Committee for Freedom of the Press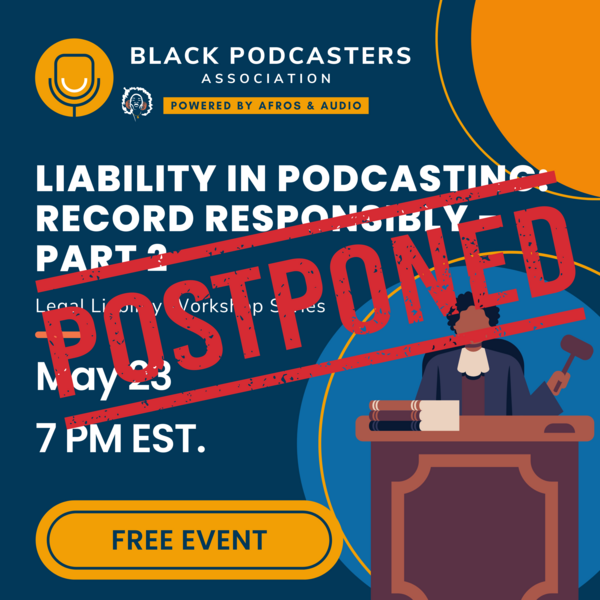 Due to unforeseen events, we will have to postpone tonight's Liability in Podcasting: Record Responsibly Pt2 workshop presented by the Reporters Committee For Freedom of the Press.
We apologize for any inconvenience this may cause you, however, we will be rescheduling this workshop for June 1, 2022, @ 7 pm.
If you have already registered for the event, you will receive an email with all the updated information.
You can register for our new date and our other upcoming workshops in this series at: https://bit.ly/RCFPwkshp
We appreciate your understanding and patience.
Sincerely,
Corey
The Spotlight Series Season 2 Finale
Last night we had our Season 2 finale of our Spotlight Series and it was an amazing conversation with Christine Job of the Flourish in the Foreign Podcast. Though there was a 5-6hr time difference, Christine dropped some gems about living abroad as a Black woman as well as her journey in podcasting.
This interview was a great way to end our 2nd season. If you would like to check it out you can see it below, and don't forget to also check out our Season 2 playlist on our official YouTube channel.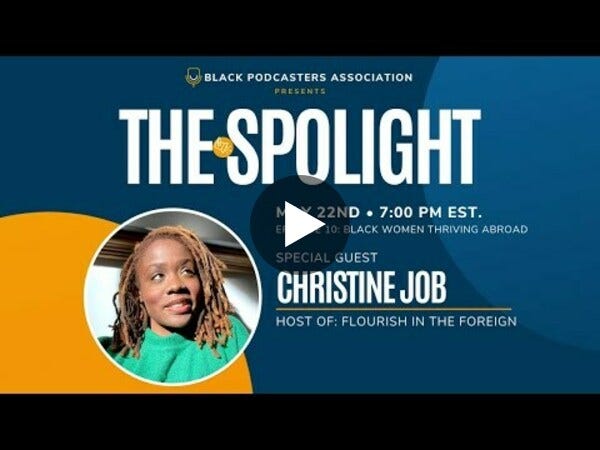 The Spotlight - Season 2 - Season Finale - Ep. 10 - Christine Job - Flourish in the Foreign
So when will The Spotlight Series Season 3 start?
There is no immediate date scheduled for the start of Season 3 as of yet. We will be taking a break during the summer to reassess and implement some new changes so that we can take the show to the next level.
We will keep you updated on Season 3, but while you wait, please make sure you check out Seasons 1 & 2 and support the various podcasters we have had on our show.
Become a member.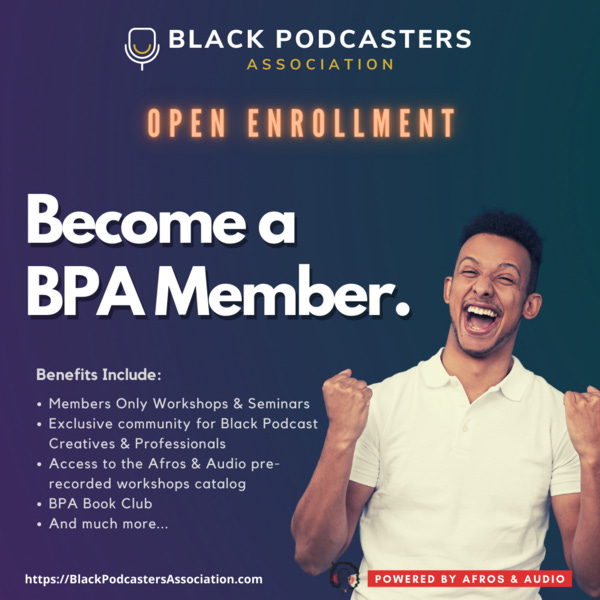 Join the only podcast community dedicated to black podcast creatives and professionals. Enjoy perks such as our Bookclub, member-only workshops & events, and more.
To learn more about the #BlackPodcastersAssociation and to become a member of our online community: https://bit.ly/BlackPodcastersAssociation
Follow & Subscribe to the BPA
Linktree: https://bit.ly/BPALinks
Facebook: https://bit.ly/TheBPAFacebook
Instagram: https://bit.ly/BPAInstagram
Twitter:  https://bit.ly/BPATwitter
Twitch: https://bit.ly/BPATwitch
YouTube: https://bit.ly/BPAYouTube
Please visit our bookstore for our BPA Book Club selections