Discover more from BlkPodNews™
The Podcast Industry Trade Paper For Black Podcast Creatives & Professionals
Over 1,000 subscribers
🚨 New Release Alert Vol.1 | Issue 9 presented by BWDIK Podcast
Learn About The Newest Black Podcast Launches & Releases
This Post Is Sponsored By But What Do I Know? Podcast

The "But What Do I Know?" Podcast is a 2X Award Nominated Self-Improvement and Education platform and an ode to the way in which Black, Indigenous, and People of Colour, especially Women of Colour often use the phrase in a way that reduces and diminishes their light. » Click Here! «
---
⭐️ Featured Release: But What Do I Know? Podcast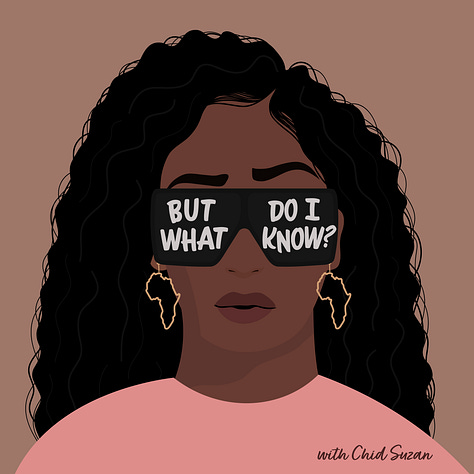 The 2X Award-Nominated Podcast, "But What Do I Know?" is returning with new episodes starting March 8th as well as an exclusive community on the Geneva App!
To Learn More About But What Do I Know, Click Here!
Join The Exclusive In The Know Community,
About BWDIK
No longer are we hiding behind the phrase "But What Do I Know?". On this 2x award-nominated podcast, we are affirming our knowledge as well as learning and healing from our experiences.
Join your host Chid Suzan every other Wednesday to "Clue In" to the latest pop culture news and current affairs, from R&B and Afrobeats music releases to geo-political matters. Following this, Chid is sure to be joined by a guest expert for conversations related to "relationships", "personal and professional growth", "wellness" as well as "finances". These "Main Segment" conversations are meant for deeper reflection, and self-discovery so get ready to overcome your own "But What Do I Know?" moments.
About Chidinma "Chid Suzan" Azubuike
Chidinma "Chid Suzan" Azubuike is an Urban Planner and Podcaster/Content Creator that is merging her love for Community Building/Development and her passion for writing and public speaking.
As a Podcaster/Content Creator, Chid created The But What Do I Know? Podcast as an ode to the way in which People of Colour, especially Black Women often diminish their own knowledge and experiences in spaces where they may not feel completely affirmed and encouraged. So therefore, in this space, BIPOC (Black, Indigenous and People of Colour) individuals can feel affirmed, learn from the knowledge of others as well as heal from past experiences. Chid is currently the Founder, Host and Editor for the podcast content and subject matter. 
When Chid isn't planning cities or podcasting, you can find her listening to R&B music or watching homegirl comedy shows including "Insecure" and "Harlem".
---
Affiliate Link
The world's new leading platform for indie artists, podcasters, & creatives. Join Today!
---
🚨New Episode Alert: Watch For The Hook
Episode Title: Fend 4 Yourself
Description: There were times when we had to negotiate and fight for our right to be included in businesses and jobs. Now we own businesses that supply jobs. However, the mentality of there is only room for one of us at the table is still holding us back collectively as business owners.
Now, we sit at many business tables, and we seem to still fight with each other. We have so many who are good at so many things, how can we not be doing so much better together. None of us should be out here fending 4 ourselves, by ourselves.
One of us is good at this, one of us is good at that, and then someone else should be good at bringing us together to help us work better as a unit. You can keep trying to get it out of the mud, but we should be getting it out of each other.
---
🚨New Episode Alert: Perpetual mOetion with Dr. mOe Anderson
Episode Title: Eliminate Frustration From Company Chaos
Description: From her office in Madrid Spain, former D.C. lobbyist turned global business strategist, Kerry Ann Powell, champions small and medium-sized businesses around the world. Her ongoing mission is spreading the gospel that running a business doesn't have to feel like you're managing a tornado.
In this episode, we discuss the dos and don'ts of running a business in any economic climate! And for those who don't own a business, garner tips on how to help your employer scale up or successfully run your own business in the future!
A notable quote from this episode - "What's your life plan and how does your business vision fit into your life?"
Topics discussed:
growing a business vs scaling a business

avoiding chaos as you grow your company

negotiating with vendors or creditors

the importance of automating repetitive tasks

questions to ask a prospective employer

lessons from Enron

Kerry's role in raising capital for the MLK monument in Washington, DC

micromanagement and more...
Download Kerry's free e-Book "Eight True Culprits Causing Chaos in Your Business" and learn more about Trafalgar Strategies at https://www.trafalgarstrategies.co/
---
Sponsored Link
---
🚨New Episode Alert: All Gas No Breaks Podcast
Title: AGNB Episode 66 Black2Business Part -1 (VIDEO)
Description: Black again with another one. Supa Seyan Santi and OG_Frank got together and hit the streets of DC in search of some soul food.
They politicked about Lebron surpassing Kareem as the All-Time Leading Scorer, Chitterlings, Rihanna's Super Bowl, the NBA Slam Dunk Competition, the state of boy/girl relations, and then some.
Yep, they did all that and got dropped a fire A$$ new track by Breadwinner Kane kanebwa "Pop It" ft. Sauce Walka & Sauce Wood Winnin. Thanks for tuning in, make sure to sit back and enjoy yourself.
---
This Post Is Sponsored By But What Do I Know? Podcast

The "But What Do I Know?" Podcast is a 2X Award Nominated Self-Improvement and Education platform and an ode to the way in which Black, Indigenous, and People of Colour, especially Women of Colour often use the phrase in a way that reduces and diminishes their light. » Click Here! «
---
📥 Releasing a new podcast episode? Launching a podcast? Let us know! Send us an email to: newreleases@blkpodnews.com
BlkPodNews™ is a reader-supported publication. To receive new posts and support my work, consider becoming a free or paid subscriber.